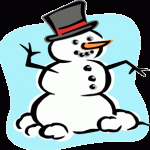 As the song goes, "Baby it's cold outside!" The unusual weather conditions this winter have forced us to reevaluate our policies for snow day closures.
Hopefully you have seen the flyers posted at the entrance, the sign-in table and at the classrooms stating that GLCDC will stay open when local school close for extremely cold temperatures.
Because we do not have students who walk to school or wait at a bus stop, it's not necessary to close GLCDC on very cold days. We will continue to follow school closures for Warren Consolidated if the district is closing due to heavy snowfall and unsafe road conditions.
When the weather isn't too frightful, Pre-K and preschool students need appropriate outer wear for playing outside. Please make sure your child has a coat, snowpants, boots, mittens and a hat every day.